What Wine Pairs With Your Meat?
July 22, 2020
We've all heard of the classic red-wine and steak pairing – but does that mean ANY red wine works? Wine connoisseurs at home tell you that the wrong wine pairing can make or break a meal…and we agree! Even if you know that steak typically goes well with red, do you know which wine goes best with your pork, chicken, or lamb? Don't worry, we're here to help.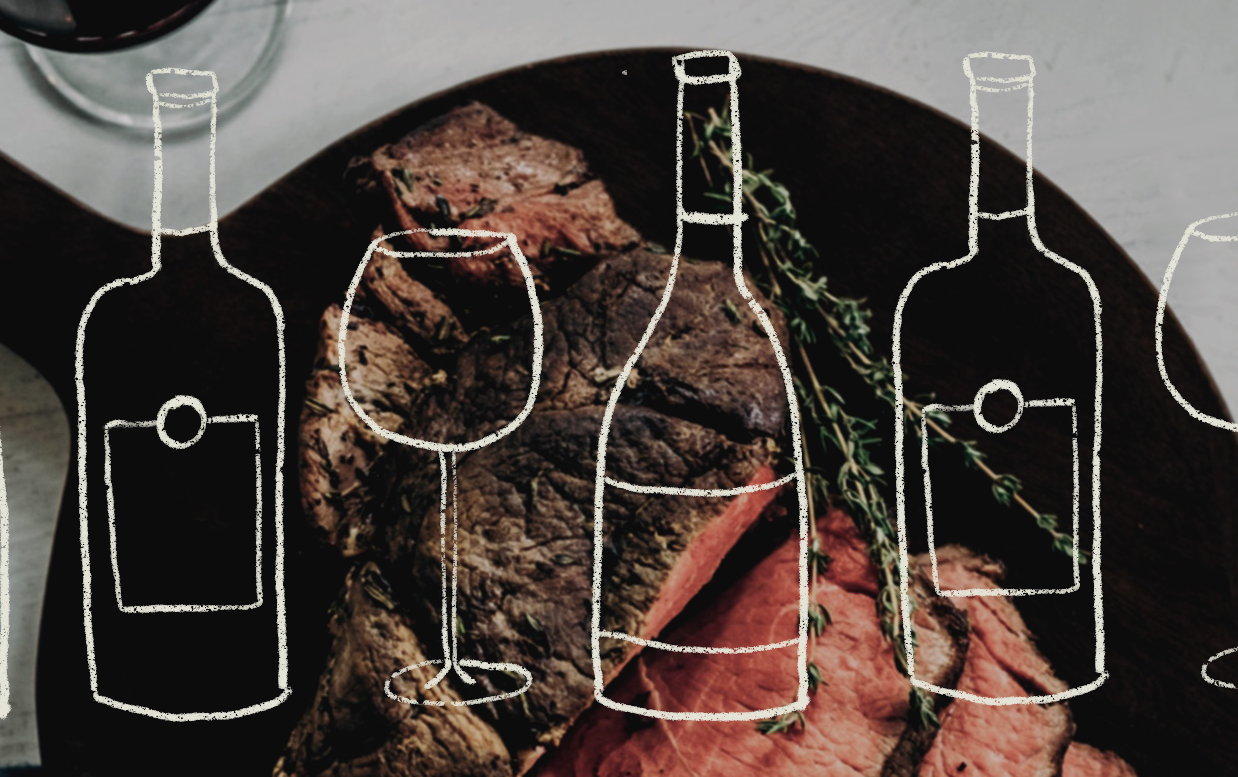 A good rule of thumb is to think about the characteristics of your meat – and when in doubt, a Pinot Noir pairs well with your red meat, and a Sauvignon Blanc pairs nicely with most others.
Getting more specific now, if you're grilling a beef steak or hamburger patty, it would pair nicely with a young and fruity California Cabernet Sauvignon. For something like beef stew, we'd suggest a richer Pinot Noir.
The gamey but light flavours in lamb pair well with wine and we find the combination of lamb chops with a Cabernet Sauvignon or Spanish Rioja second to none. With other cuts or preparations of lamb, we suggest lighter and delicate wines like Merlot or a Rioja.
Pork is a more difficult protein to match compared to beef and lamb. It's often cooked with spices that aren't compatible with wine flavours and it's slightly sweet aftertaste poses a bit of a challenge. Typically, the best choice with pork is a young and low-tannin (bitter/dry) wine that has hints of fruit and acidity. Baked ham goes well with California Merlot and Pinot Noir would be our choice of pairing with pork chops and roasts.
Chicken and duck both pair nicely with red and white wines. There's no need for rich reds when pairing with poultry – a simple roast chicken would go perfectly with Chardonnay, and duck with Pinot Noir. Lastly, one pairing we didn't know we needed but certainly want…is fried chicken with a dry rose…or a cold one!
Want to test any of these pairings or try some of your own? Sign-up with NIKU Farms today and customize your first box now!
P.S. Southbrook Vineyards is a sustainable and organic winery we previously sat down and had a chat with for our podcast "On Pasture". Learn more about what they're doing that's making waves in the vineyard industry and give their uniquely delicious wines a taste too by placing your order for next week's dinner.