Farm Update: Big Rock Bison
July 17, 2020
We asked one of our partners Heather, from Big Rock Bison, to share some of the changes her farm and family have encountered during the COVID-19 outbreak.

How have you and your family been doing during COVID-19, have your daily routines changed at all?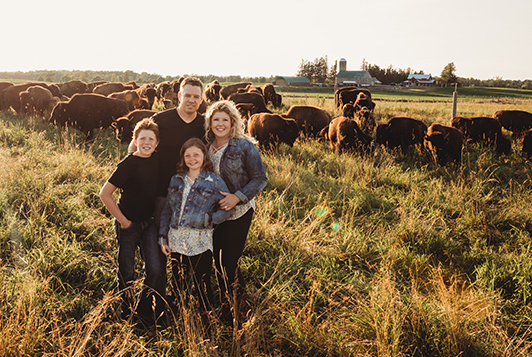 COVID-19 has been quite a whirlwind of events for our family. We started the whole pandemic in Florida. So after we were safely able to get home from there we were right into 2 weeks of quarantine. In the beginning, we were like many families. Enjoying the forced slow down from running for sports, work, etc. We ate all of our meals together, played games, tried new things, tackled projects, got into puzzles, and more cooking. But mostly stayed appreciative that we were on a farm, in the country, safe and healthy when many other people were not in that same boat. Then there seemed to be a blur of transition time, calves coming, weather changing, arguing about school work daily (haha). 
The beauty of farming animals is that they don't really realize that there is a pandemic happening. Animals still need attention, hay still needs to come off, fences and water bowls still need maintenance. So farming wise not much changed, other than there was the opportunity to involve the kids considerably more. So the biggest take away from that would be the experience the kids got with the farm and their dad teaching them, and all of the aspects they didn't get to see before. 
For our other company BUFF, we noticed a huge slow down because our national distributors weren't re-ordering because no one was going out shopping, and if they were it was for necessities only. Now that the world is opening up a bit more that has started to bounce back thank goodness. Our daily routine is much the same as before, but with more together time – really coming together as a farming family for the benefit of our animals, land, and customers.
Have any challenges impacted your farm and business recently? How may that have influenced some changes around the farm?
We don't depend on materials/feed etc from say a feed mill like other types of animals. All we need to provide is lots of grass, clean water, and our special mineral blend (that when ordered ahead can be easy to get delivered here) so we didn't experience the shortages or stress of that for our farm which again we are so grateful for. Our only real challenge was running out of meat faster than usual. The COVID surge after the world watched how broken our meat supply to grocery stores was real. We were being sought out and continue to ride that wave as people realize now that going back to farm-direct meat sales is better for everyone and everything involved.
Is there something positive you've found amongst all recent events? 
So many things. I could make a list that would go on for quite a while. We really focused on the positive in our house. There were so many negative and scary things being thrown out in the media. For every negative, we would find a positive. A few of our top ones – a forced slow down in life, time to re-evaluate how we were spending our time, dedicated time with the kids, time to experience new hobbies/sports, tackle some interesting projects, and having the kids learn more and participate in how our farm and BUFF business is run. They were a part of it before but never at the capacity as they have been since March. 
Is there anything else you'd like to add/share with the NIKU Farms community?
We are so grateful for the continued support of our farm business. We hope you keep ordering and we will keep focusing on providing the best tasting, highest quality bison in Ontario.
We'd like to thank Heather at Big Rock Bison for sharing with us about recent events. If you'd like to support her, her family and business, sign up now and begin customizing your box from Big Rock Bison!