Woolley's Lamb: Farm Update
May 29, 2020
This week we asked one of our partners Carrie, from Woolley's Lamb, to share about the changes her farm and family have encountered during this COVID-19 outbreak.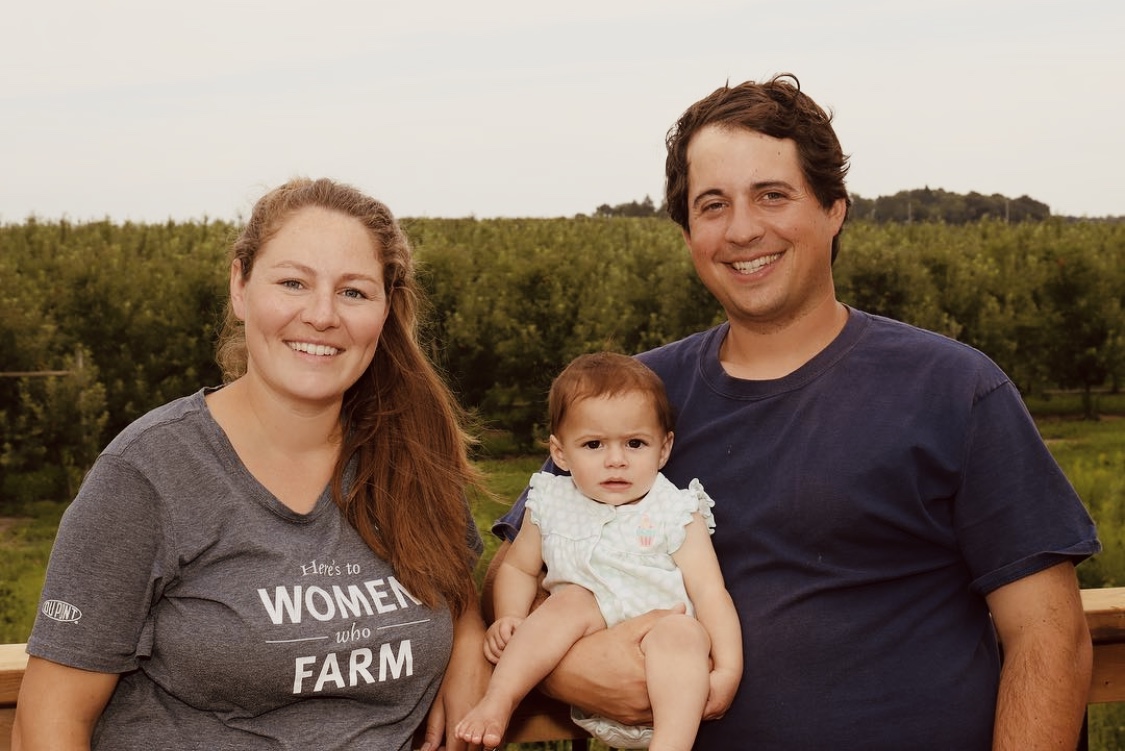 Carrie and her husband Brett own and operate two farms, Woolley's Lamb, and Schuyler Farms which grows vegetables, fruits, and grain crops.
How have you and your family been doing during COVID-19, and how have your daily routines on the farm changed?
"Our family has been doing okay during this pandemic. It has been quite stressful for us as our farm depends on a huge skilled labour force of migrant farm workers and there are severe restrictions being placed on these workers right now."
"For example: Our workers from Trinidad and Tobago are not allowed to leave their country and come work, so the usual 60 men and women we would have right now for farm work, especially orchard management are not here. While Springtime is always busy for us, it has been extra busy and hectic as we are severely short-staffed due to these restrictions in place with migrant farm workers."
"Because I don't have my usual workers who have helped with sheep the last few years and because we are in such a critical time, lambing 700 ewes right now means my usual routine is extra busy making sure all animals are being well cared for."

What challenges have impacted your farm and business recently? What about the community as a whole?
"Due to the worker restrictions I mentioned above we had to kill off 75 acres of asparagus because we didn't have any workers to harvest it."
According to The Grower, a national horticulture journal, this translates to an estimated loss of $864,000 gross.
"Our apple crop will have reduced quality as we can't get all our pruning done and right now we are starting to have concern that our cherry harvest in July is in jeopardy of not being fully harvested."
"It's an issue happening across our entire county of Haldimand-norfolk as our area's health unit has put in extra measures to reduce/control farm worker numbers. And quite frankly it's putting this province's food security at risk as this area produces huge volumes of fruit and vegetables."
"It's a huge issue and so much so that our farm has taken legal action and is currently in an appeal hearing in front of the provincial health board to loosen the restrictions on workers allowed."
Is there anything positive you've found amongst all recent events?
"To try and find a positive out of it is a bit tough but we have found that it has brought us closer than ever to others in our community especially others in agriculture that are dealing with the same issues. It has brought about collaboration with others and has us thinking about how we can work together creatively and make things better for this community."
Want to support your local Ontario farmers? Sign up for a NIKU Farms subscription and customize your delivery directly from Woolley's Lamb here.
We'd like to thank Carrie Woolley for chatting with us and sharing transparently about what is currently happening with her farm and the agricultural community.

To read more about Carrie and Brett's appeal: