Chicken Stuffed Roasted Peppers Recipe
January 20, 2020
Peppers are one of the foods with the highest source of vitamin c, second only to papaya. A well balanced diet with lean, pasture raised ground chicken and other nutrients from whole vegetables contributes to heart health, brain health and overall well-being. This is the perfect recipe for a healthy heart, by Andy Muto.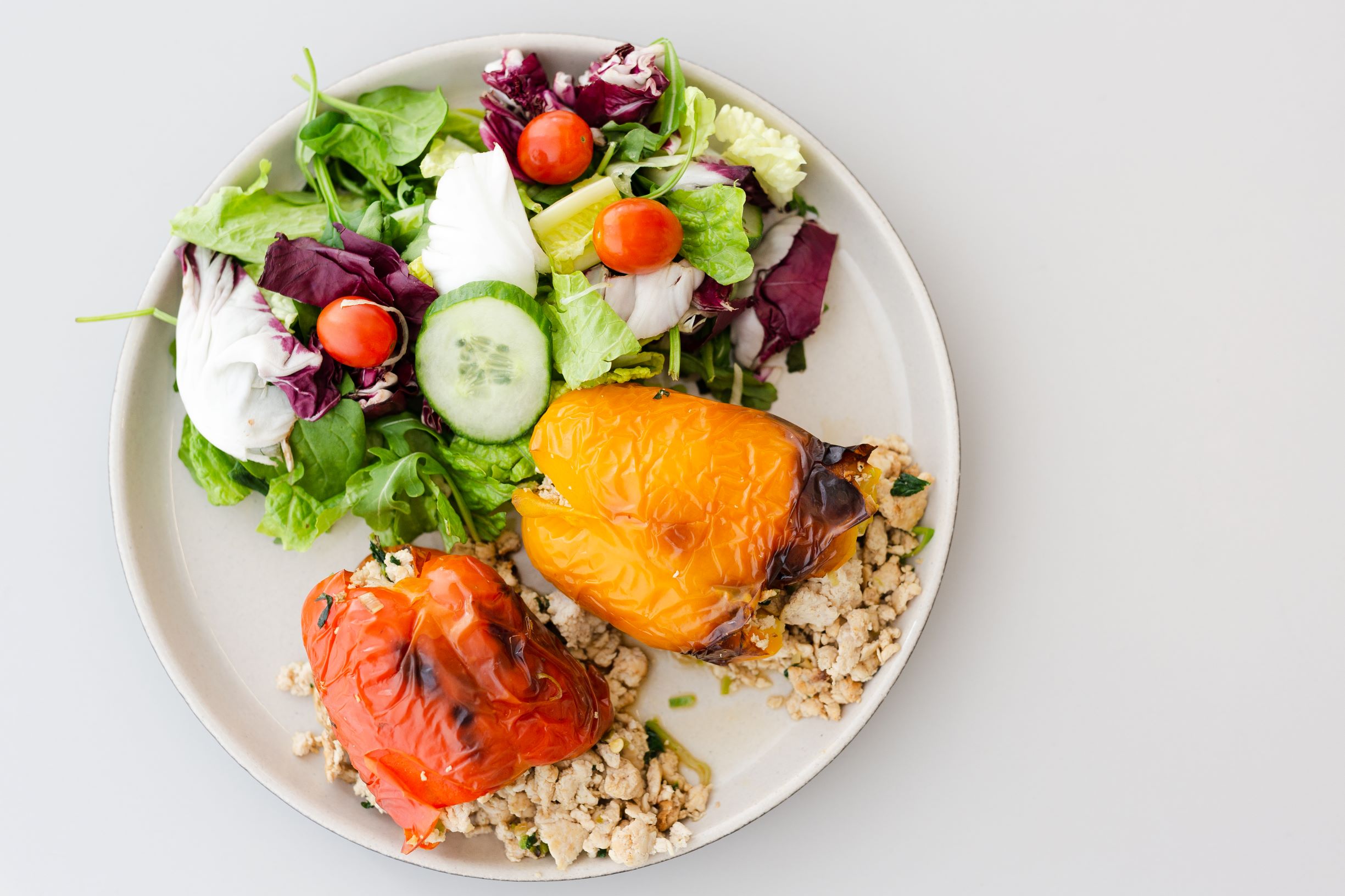 Ingredients
4 red, yellow or orange bell peppers, roasted
2 lbs NIKU Farms pasture-raised, ground chicken
1 medium onion, coarsely chopped
1 clove of garlic, crushed & coarsely chopped
1 handful of baby kale
2 tbsp nutritional yeast
2 tbsp olive oil
Salt, to taste
Roasted Pepper Preparation:
Place peppers on a baking sheet & roast at 375F until skin blisters and has hints of charred black for about 30-35 minutes. Peppers should be soft and cooked thoroughly. When done, remove and let cool. Once cooled, gently remove the core and seeds, while trying to keep the pepper intact. Once cored, slice pepper once so it is now spread open as one entire piece.
Stuffing Pepperation
Place ground chicken in a bowl, add chopped onion. Add garlic, olive oil, yeast and chopped kale. Mix thoroughly. Spread on a baking sheet and cook in the oven for 20 minutes 350F. When done, gently break apart and release the cooked chicken from the bottom of the tray with a spatula. Let cool.
Assembly:
Take 2 heaping tablespoons of cooked chicken stuffing and place in one end of the sliced roasted pepper. Gently roll the pepper, while making sure to keep the stuffing inside the pepper.
Bake for another 10 minutes at 350 degrees
OPTIONAL TOPPING:
Nut-Free Roasted Zucchini Pesto (nut free and vegan)
Ingredients
1 large zucchini, cubed
Olive oil
2 tbsp nutritional yeast
½ clove garlic
2 handful Fresh Basil
1 handful baby greens, kale or spinach
Salt to taste
Method
Place zucchini on a baking sheet with garlic and drizzle a little oil.
Bake for 15 minutes. Remove and set aside. Once cool, put cooked zucchini, garlic olive oil greens nutritional yeast and basil into a blender. Blend until smooth and pour on top of the stuffed peppers.