Paleo Chicken Ramen
November 7, 2019
We all have our favourite home-cooked meals our go to spots for take out. Sometimes the line between the two is so distinct that we can't imagine making certain dishes on our own. Ramen may be one of those dishes for you, but after reading this, you'll be surprised how easy it is to make when you have ready-made bone broth. Not just any bone broth, but bone broth from NIKU Farms. We're lucky to share this recipe from Lauren Scapillati, a holistic health coach and culinary nutritionist. It's an easy weeknight dish, especially on chilly evenings. For more of Lauren's recipes, be sure to check out her Health and Wellness blog here.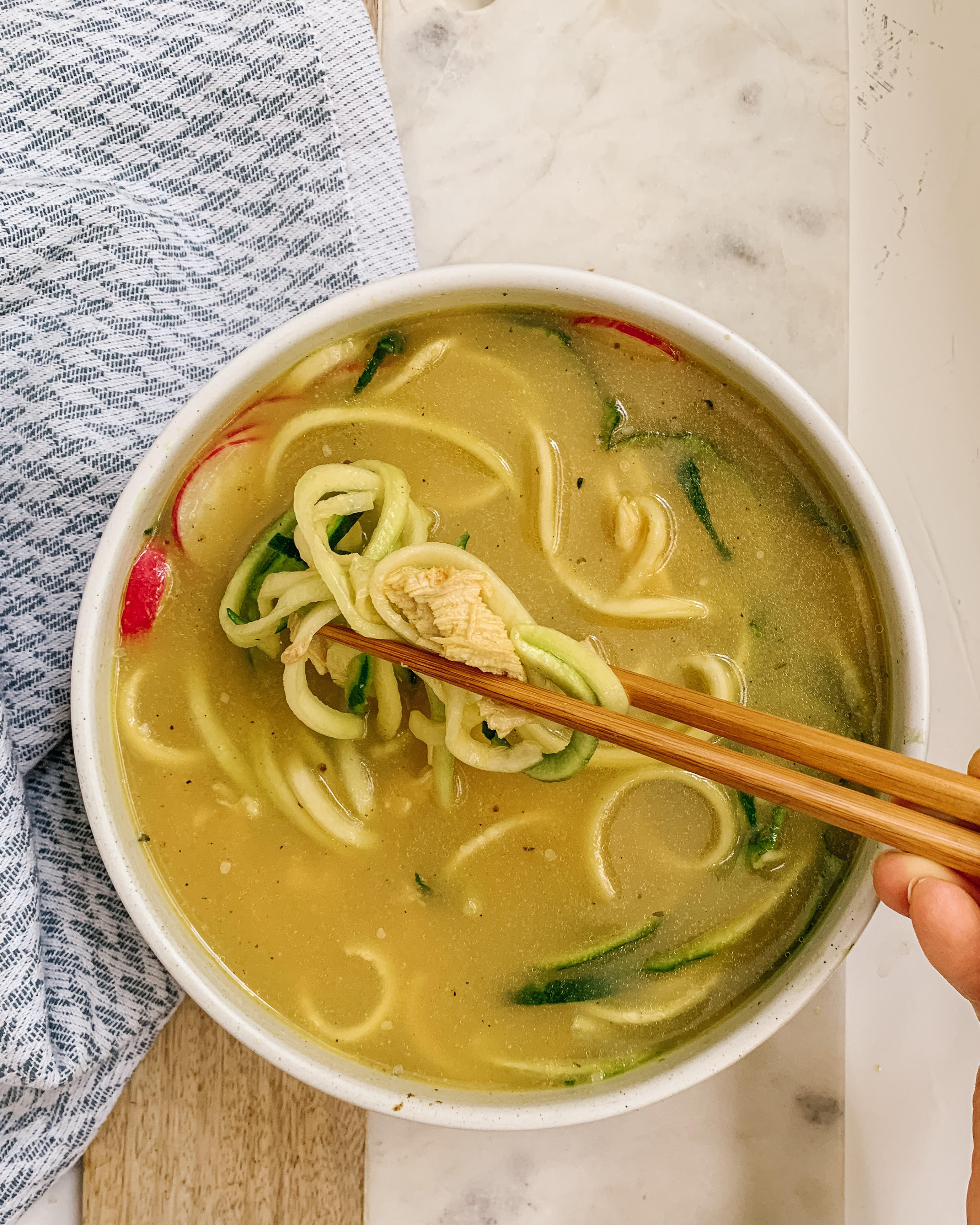 First, you'll need the following ingredients that are very easy to find:
1 tbsp avocado oil
1 clove of minced garlic
1 tsp ginger
3c NIKU Farms Bone Broth
3/4c full-fat coconut milk
3 tsp coconut aminos
1 tsp sea salt
1/2 tsp turmeric
1 tsp coconut sugar
Chilli flakes to taste
1 zucchini, spiralized
1/2 radish, sliced
1 NIKU Farms Chicken Breast (cooked in Instant Pot and shredded)
Now to the preparation process. Put dutch oven or large pot on a stove and add avocado oil, garlic and ginger and stir until it sizzles slightly. Add in bone broth and coconut milk and stir well, eventually letting the liquid come to a simmer. Next, add coconut aminos, spices, salt and coconut sugar. Finally, add cooked shredded chicken and stir for about 5 minutes.
In a big soup bowl, add prepped spiralized zucchini. Scoop the desired amount of soup into the bowl (or until zucchini is covered), then top with sliced radish and a bit of pepper. Quick, simple and delicious.
It's no accident we chose spiraled zucchini instead of noodles. This healthy decision will allow you to keep some diets such as paleo. We hope this hearty bowl of soup warms you up during the cold weather we've been having.