Pumpkin Chickpea Pasta Bolognese
October 3, 2019
Nothing beats the classics. Maybe except for creative twists added to the classics. You wouldn't expect to have such a creative Pasta Bolognese, but the second you add pumpkin, it's next level!
Thanks to Lauren Scapillati, a holistic health coach and culinary nutritionist for this wonderful recipe. It has easy instructions and simple, ethically raised ingredients (aka NIKU Farms). It's the perfect weeknight dish, and since this recipe uses chickpea pasta you'll be able to keep your daily portion of carbs low. For more of Lauren's recipes, be sure to check out her Health and Wellness blog here.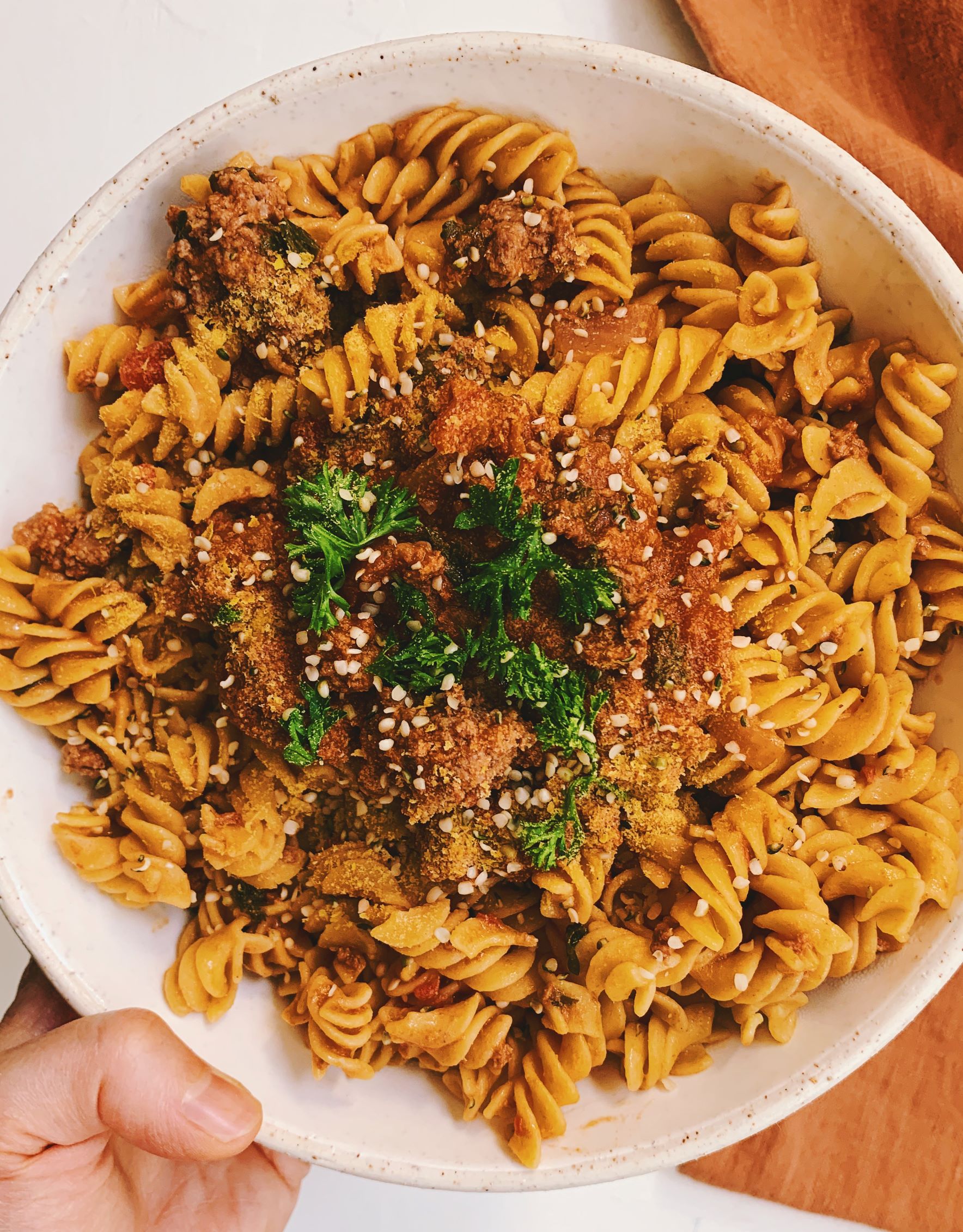 Ingredients (in order of use): Yields 3-4 servings
1 tbsp avocado oil
1/2 a red onion
1 tsp garlic powder
1 tsp sea salt
1 can of organic unsalted diced tomatoes
1 package of grass-fed ground beef from NIKU Farms
1 tbsp tomato paste
A handful of fresh parsley
1 tsp thyme
1 cup pureed unsweetened pumpkin (will come in a can)
2 tsp coconut aminos
More salt to taste
1 box of Chickapea pasta
Directions:
Add avocado oil to a dutch oven (cast iron pot) and turn the heat on medium. Let it heat up.
Add your onions, garlic powder and salt. It should sizzle – stir until the onions are translucent.
Pour in a small can of diced tomatoes, followed by ground beef. Stir well and let simmer for 5-10 minutes. Turn the heat on low/med.
To the simmering pot, add 1 tbsp tomato paste, parsley, thyme, pumpkin puree and coconut aminos.
Stir well and let simmer on low for 15 minutes, or until meat is cooked. Stir occasionally – it should be thickening up here.
In the meantime, boil your pasta water in a pot. Once boiled, pour chickpea pasta in and keep to a light simmer for 6-8 minutes. Once done, strain into a colander and pour back into the pot.
Once the meat is cooked and the sauce has thickened to your desired consistency, add a good amount of sea salt (this is the GOOD mineral-rich salt that we want more of!). Scoop a generous amount of saucy meat into your pasta pot and stir.
Serve and ENJOY!
The recipe is not only quick and simple to make but Bolognese sauce is one of the few pasta sauces which are just as good when reheated.  This is why making a larger portion of the sauce may be a good idea to pair it with any type of pasta you desire. 
Now that it's fall, it's really the best time to stock up on Grass Fed Ground Beef. It's easy to add to any of your NIKU Farms packages. Best part is that they are all delivered in individually vacuum sealed packages, so it's easy to meal plan.