Top Athletes Are Getting Back to Basics and Eating Local
June 24, 2019
Today more than ever, we are beginning to understand just how much food can affect our overall health. From our physical health to our mental and emotional well-being, what and how we eat touches so many aspects of our life. To learn more about the connection between food and wellness, we spoke to Andy Muto: chef, local food advocate, and wellness chef for former NHLer Gary Roberts' High Performance Training program. [You can listen to our full interview with Andy in our podcast below.]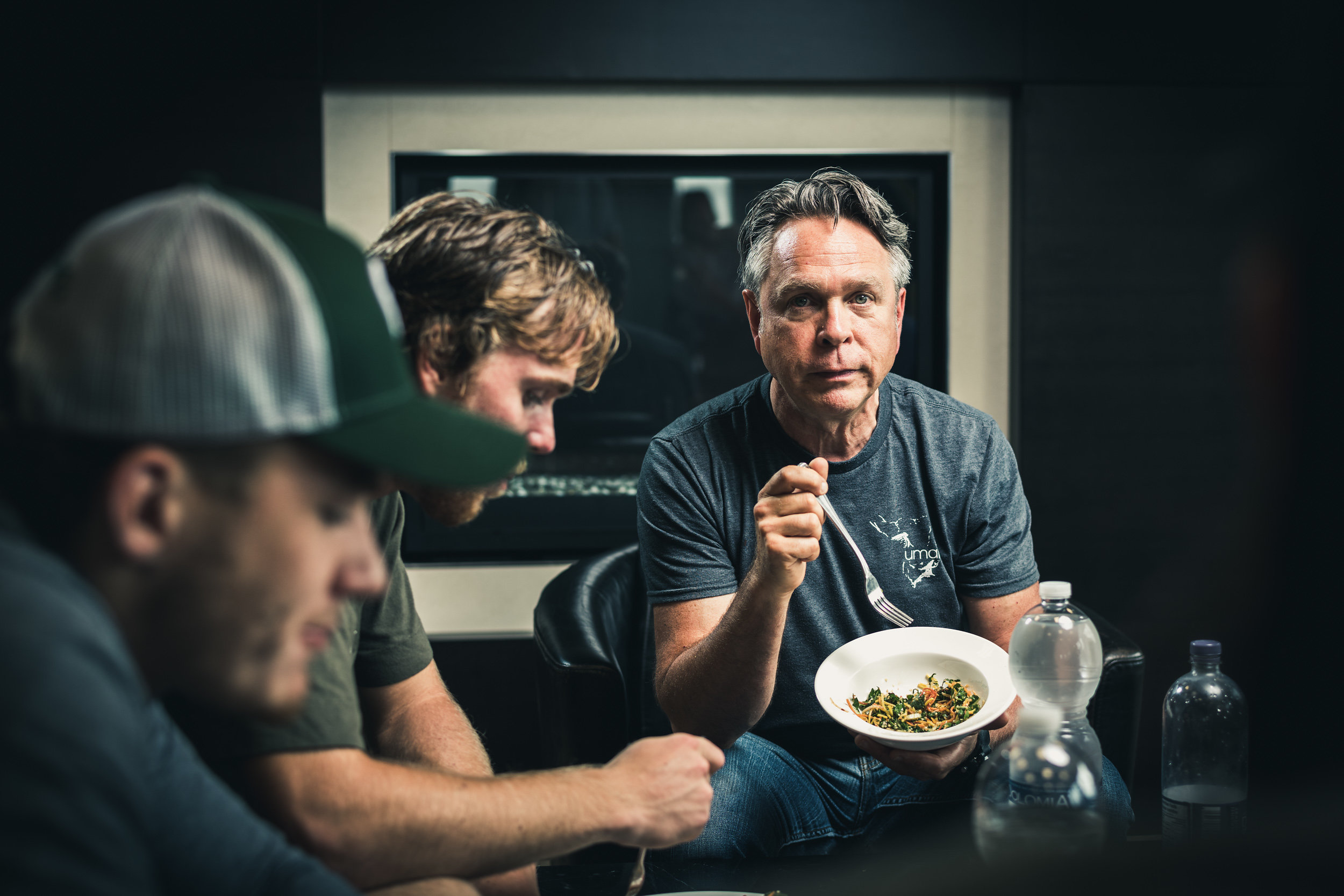 Andy Muto

Andy's journey to becoming a wellness chef began with his time acting as a caregiver to his family members. He quickly noticed the correlation between food and personal well-being, and how the body responded to good food and the right eating regimen. "Food is a very important aspect of human connection… People are forgetting the connection between the human being and the food," he said.

Muto began working as food director at Nature's Emporium in 2006, at a time when healthy, simple eating was seen as more of a grassroots movement, rather than a lifestyle. "People used to laugh and look down at you, and now, it's become the thing to do, and it's become the most lucrative thing to do." Yet this can be problematic, too. Now that there is so much money involved in the health and wellness industry, many people are being misled by fake marketing tactics.

The answer to all of this confusion, according to Andy, goes all the way back to our childhoods. Muto wants people to think about the foods that they ate as kids, what their friends' families ate. He's hoping to remind people of the foods from their own cultures they ate when they were young, effectively getting them to return to their roots.

Simple, Wholesome Food
Andy brings this philosophy of simplicity to his work with the young NHL players at Gary Roberts' training program with simple, wholesome, and local food. The core focus with the players' eating plans is on gut health: finding the best combination of whole foods for their performance needs, and then focusing on them as human beings. Andy believes that everything comes down to digestion and that by eating foods in their whole state, the athletes he feeds can keep their lean body while maintaining the level of energy required to perform at the highest levels.

Gut health is also connected to the order in which you eat your meal. The players are typically served a salad with a light lemon or lime juice or apple cider vinegar dressing first, as it will begin to be digested in as little as 15 minutes. Andy follows this up with a single type of high-quality protein, like grass-fed beef, and a lot of seasonal vegetables. Carbs are served up last.

While every type of athlete has similar needs, they do sometimes have different requirements based on the kind of activity they do. For instance, baseball players tend to be static for more extended periods during a game, while hockey players are always moving. Still, there is a similar principle to what they eat: adding healthy fats to a higher carb diet helps them to keep their energy levels up, and so does eating healthy snacks between meals. Athletes are constantly fuelling their bodies to keep up with the intense training they must do to get ready for their respective seasons.

This principle stays the same regardless of the player's gender. One of the players for Canada's women's hockey team made an important point. She told Andy that women in sports work equally as hard as their male counterparts, so female athletes will have the same needs as males when it comes to fuelling their bodies. Andy views the portions he serves as "athlete" portions, rather than female or male portions.

Ultimately, Andy wants the players he works with to get back to the basics. Even non-athletes can benefit from this philosophy; by using whole foods to guide our eating habits, we can make better decisions about what we eat. Andy uses the Italian saying, "eat the way your mother made you," to illustrate the idea of eating food the way it was meant to be eaten. Instead of smoothies and juices (which tend to have more sugar and too many portions in one serving), we can focus on eating our foods the way they were created. If we practice moderation and balanced eating, we can improve our overall well-being, both physically, as well as mentally, emotionally, and spiritually.

Eat Local and Seasonal

Eating locally is also intrinsically linked to eating well. Andy supports and buys from local farms as much as possible, and serves seasonal produce to the athletes he feeds. "Having food from local places, it all makes sense," he says. During the training program, Ginger Gold apples come into season, so he buys a bushel of the apples and serves them to the players. The apples are a favourite of NHLer Phil Kessel, who Andy says will eat three of them before his regular breakfast. Buying local food and sticking to seasonal produce allows the athletes to really appreciate the food they're eating, and to appreciate how much better food sourced from local farms can be than more processed, commercial food found in so many grocery stores today.
Andy's Top Tips for Eating Well

1. Ask questions about where your food comes from.
Ask as many questions as you can about the food you eat. As Andy points out, there really isn't a governing body for the marketing put on labels, and it is easy to be deceived by buzzwords on a package. Doing your own research can only help you to make better choices.

2. For the parents of kids enrolled in sports:
Make wholesome snacks to bring to practice, and make them in bulk! Take the time to prepare snacks at home and avoid overly processed foods. Andy suggests coming up with ideas and getting your kids involved, to get them excited and keep you motivated.

3. Take it easy on yourself.
There isn't one way to eat healthily, and it can look different for everyone. Remember, being healthy isn't just about nourishment, it's also about the relationships it creates, and your spiritual, mental, and emotional well-being. You shouldn't feel guilty about indulging sometimes. We're all human beings. In the end, it's all about finding a balance that works for you.
NIKU Farms is now supplying the Gary Roberts High-Performance Training Camp with meat for the players. We are working closely with Andy Muto to make sure that the athletes get the best and healthiest pasture-raised meats there are. We're very much looking forward to this partnership.
How to Get in Touch with Andy
Book a chat with Andy and learn what it means to feel your best. You can find him at his website, at Create Healthy Food, or directly through email.